Hawaii Aloha Ukulele Tropical Long Silk Pajamas Set #DH
$54.99
Materials:
Fabric Composition: 100% fibers created by the silkworm insect, which is smooth but stretchy.Comfortable to sleep in and feels soft on the skin.
Features:
Long Silk Pajamas Set includes a long sleeve and long pants. 
Top: Button closure, rounded notched collar, chest patch pocket.
Pant: Relaxed fit, 1-inch wide elastic waistband, and 2-sides pocket.
Uses:
Makes you comfortable in the lounge and sleeping time
The best gifts for her birthday, Mother's day, bridal party, wedding party or pajama party, etc.
Washing Instructions:
Machine cold wash or hand wash with cold water
Tumble dry low heat.
Iron steam or dry with medium heat.
Do not bleach.
Note: We may charge extra charge fees for the different sizes of the product.
These garments are made from silk, with each design being made-to-order. Due to each of these products being cut and sewn specifically for you, there may be discrepancies in the design. Our team works extremely hard to get the design to be laid out exactly as seen in the photo, however, there may be design overlapping on the seams and/or arms!
Unsure of which size to order? Look no further. If you find yourself between sizes, we recommend going for the larger size, as most people prefer their pajamas a little looser.
All sublimated products will appear lighter at stretch points.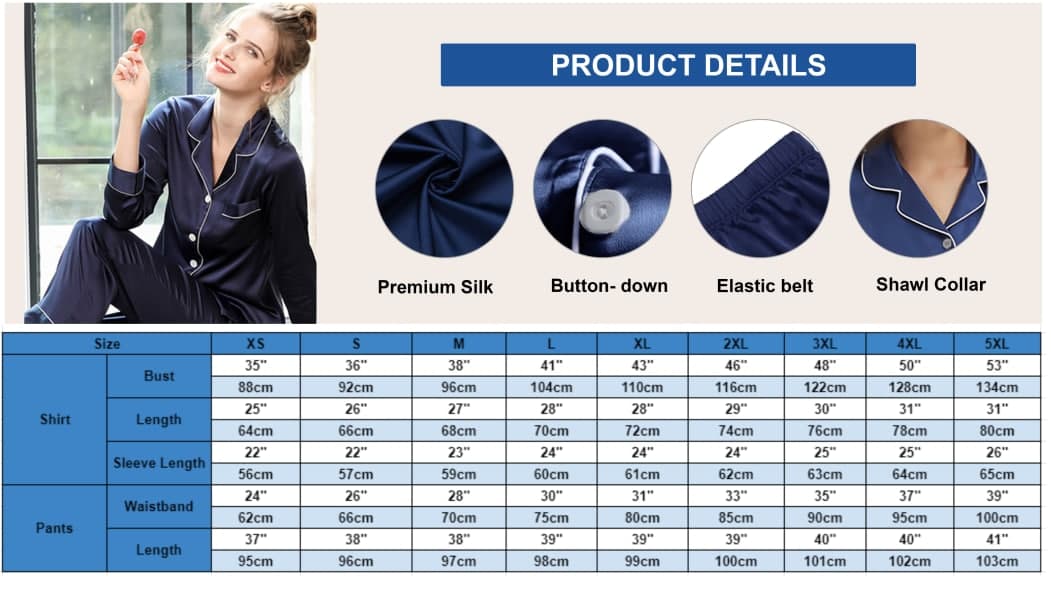 Note: This size chart shows product measurements taken when products are laid flat. Actual product measurements may vary by up to 1'' because they are custom-made by hand. 
Please check carefully the size chart above and body measurement chart below to choose the suitable size for you.